Mobile application for Smart laundry
Mobile applications are used for working with RFID labeled laundry on site. It is possibble to use this solution to get current information about specific piece of linen, change of laundry in stock, despatch of linen from buffer stock to the customer, for controling of forwarding the order to the customer or for inventarisation. 
About the system
The mobil app is operated on portable industrial terminals Chainway, that are equipped with an integrated RFID reader. This is a modular solution, that is adjustable to the needs of a specific customer. It wirelessly operates with centralised database of laundry software either by intern Wi-Fi or by Internet. The app is usually connected to our laundry system LIN. It is although possible to connect it to different systems if needed.
Main functionalities
• Working with labeled laundry using a mobil terminal right on site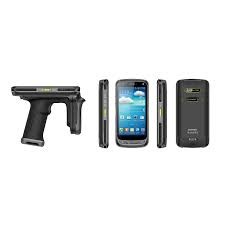 • Acquiring current information about laundry
• Change of laundry in stock
• Despatching of laundry from buffer stock to the customer
• Inventarisation of laundry
• Controling of forwarding the order to the customer