Automatical thermometer connected to a chip identification
Refined all-in-one solution that combines temeprature measurement using a thermocamera with instant identification of a person thanks to RFID UHF transponder labelled clothing. This solution consists of main computer, thermo camera and RFID UHF transponders that are places on pieces of clothing. It is also possible to have this system fully functional without being connected to RFID technology. It can also work with e.g. a card used in attendance or entry systems.
About system
Measured person is scanned by thermocamera, which assessed the temperature, and by antenna, which reads RFID transponders from the clothes. By reading the clothes is possible to precisely identify the person without necessity to save photos of the persons. Visitor who doesn´t have clothes labelled by RFID transponder is identified as unknown person by the system.
At the same time application evaluates the temperature (standard, mildly increased or high) and inform about the result by color sign and sound notification. Information about measurement is saved in database and in case of higher than standard temperature is also send by email to given adress.
Main functionalities of the system
• Fully automatic temperature measurement – measured person only stands in distance cca 1 metru in front of the camera
• Recognition of the employees or clients thanks to labelled clothes by using RFID transponders
• Automatic combination of results of temperature measurement and personal recognition, displaying both and saving in database
• Notifications to responsible persons in case of increased temperature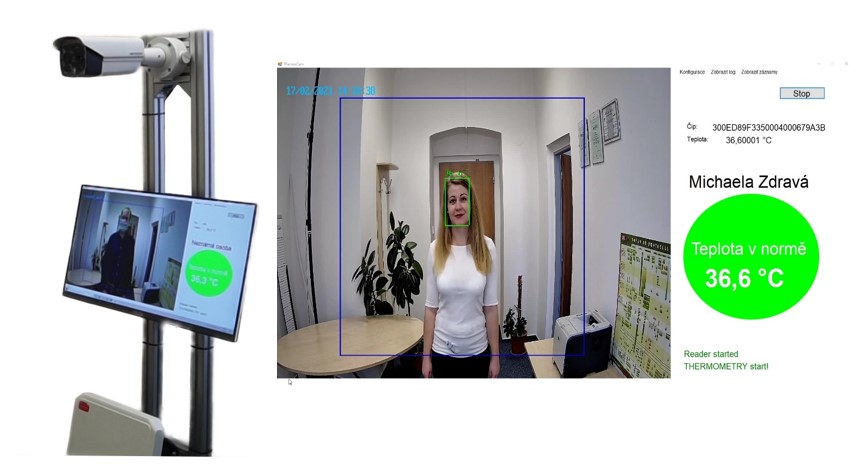 This system is fully functional also INDIVIDUALLY without using RFID technologies! Other possibility is connection with e.g. access cards of attendance or access system etc.