Catering systems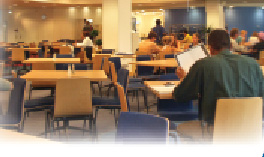 CARDPAY catering system is primarily intended to be implemented in the environment of business catering.
Implementation of CARDPAY system for business catering (both order and restaurant) so completely replaces and fully automates the standard "meal tickets" system. Allows you to record the primary data on individual boarders and especially to calculate the actual claims for allowance grant on the basis of data on the time worked from attendance system.
This payment system is a solution for the local cashless payment places connected to one center, where the central administration of cards accounts proceeds. Usage of CARDPAY system is multilateral - the system can solve cashless payments for services or goods taken under the different types of selling points, different types of devices can be combined even within a single installation.
Basic system properties:
• common master data with other applications
• common user management with other applications
• definition of different types of accounts and boarders and their parameters
• support for various types of grants and takings evaluation
• link to the attendance system
• link to different companies preparing meals
• link to the payroll system
System features for payments realization:
The basis of the whole system is the management of accounts for each of ID cards, by which are also made non-cash payments. For each card you can determine the type of account and an account balance limit, which can not be overdrawn - for example, can be used to define the advance on card, which would not be returned at the time of its loss.
Within the payments or orders it is possible after the card identification by cards reader directly draw the goods or service with the possibility to control the balance of the account before each payment, and if sufficient, the payment is allowed.
Order catering
It is based on orders from a la carte meals and its taking at the time of serving within the dispensing sensors. Ordering sensors are typically configured in two basic versions:
• quick orders - the next day of orders, sometimes the number of food are usually fixed
• long-time orders – according to generated menu.
Rather PC with identification cards reader is used. PC solves some other features - vouchers exchange, review of taken food, menus. Meal service is usually implemented through sensors with external double-sided seven-segments display for ordered food number displaying. The sensor can be added by manual blocking to avoid the rapid cards stoking and management of food dispensing process by staff.
support of menus creation, vending places with dispensing restrictions
different types of ordering sensors for food ordering execution
ordering PC with enhanced features and reviews
reports of ordered meals for the cook directly on the display of dispensing sensor
support of PC with TouchScreen display
possibility of "vouchers exchange"
sensors for food dispensing with big displays
output data on taken or ordered foods and amounts
connection to the stock control system and food standardizing
As a complement for ordering is availablea module for intranet food ordering, which implements the functions for convenient access from PCs of individual users.
overview of the current menu
meal ordering – selection from the current menu
overview of orders – cancellation, insertion to the vouchers exchange
meals exchange
history of orders
Restaurant catering
Restaurant dining is a simpler variant of business catering - no need of ordering or dispensing sensors, within the kitchen the expected number of meals is cooked and people select the meals according to their choice and pay by card instead of cash payment at the PC cash office located in the meals dispensary. Restaurant dining can be used for the sale of an additional range of goods in the eating-place or in the snack-bar.
transparent output data on taken or ordered foods and amounts
evidence of shifts within the cash office, cash balances
support of work with goods, prices, barcodes
calculations of subsidies on taken meals
PC cash office is always equipped with sensor of identification cards, it can be extended to bar code scanner. Within business catering (the restaurant type) all the rules for subsidies for taken food and the definition of boarders are kept. Both systems can be combined.
Machines for frozen foods and drinks
CARDPAY system implements features to solve the non-cash payments in various types of machines. Usually it is a taking of frozen or chilled food, or payment for services or goods taken from various types of vending machines (beverage vending machines, candy machines ...), whereas the system keeps, if necessary, the possibility of cash payments.
It is also possible to use CARDPAY system for other applications
Operation of copy machines and network printers
Slot machines and equipment
Different types of unblock sensors for admission of enters after deduction of certain amount
ID cards sensors with the calculation of time spent within a certain area
... and others
CARDPAY system significantly speeds up the dispensing of meals and goods or provision of services; it provides significantly greater comfort for holders of identification cards, and makes available all data in tabular form for operators of these facilities necessary for their administration and management.
System INFOS
INFOS system presents a comprehensive pack of software applications using identification elements, especially cards, in various areas of business, security and other activities. From management and the definition of entry, through processing of attendance, visitors registration, parking control, the elevators operation, to the solution of ordering and restaurant catering, operating of vending machines for dispensing of food and beverages, evaluation of time consumption of orders, products identification and other areas. INFOS system is a development product of company COMINFO, a.s. and builds on the previous generation of identification systems.
INFOS system supports identification elements, especially in their non-contact design - these are the identification cards and tags of various types (HID, Philips, Motorola, TAGSYS, EM, MIFARE, INFINEON, LEGIC, Texas Instruments, microwave tags and others). Magnetic cards and bar codes are supported continually.
The relevant software modules of INFOS system fully support the network operation - according to requirements and terms the applications can be run as a single-or multi-user with multiple computers and a support of LAN or WAN. Individual applications of INFOS system are designed for installation on PC workstations running MS Windows VISTA, XP, 2000.
INFOS is fully based on client / server architecture. As SQL servers are supported MS SQL Server (versions 2008 to 7.0), including MS SQL 2005 Express, Oracle and Informix. The environments UNIX and LINUX are optional for module of communications with ID cards sensors.
Strongly growing area within INFOS system are applications for intranet environments, which have three-tier architecture - data SQL server, application server and a web browser (Microsoft Internet Explorer 5.5 and higher). These include the application WATT, which is an intranet module for editing and reporting of attendance compatible with editing in the PASSPORT system. Furthermore the CARDPAY Web module which includes tasks for intranet food ordering, vouchers exchange, and review of taken meals.
INFOS system allows full data outputs (connection files, summary sheets, ...) for its processing in payroll systems, in production orders monitoring systems, statistics, and other systems. It also contains the imports of required data.
Within the module Cards Management the INFOS system provides features for management of photographs of persons, including the production (printing) of identification cards. A complete photo studio for the preparation of photographs of persons can be the part of the delivery.
Basic features of INFOS system:
• only one contactless identification card for different applications
• common central SQL database for different applications
• common programs users - rights for applications are defined within one application
• common database of persons including photos
• direct identification cards printer connection, including the possibility of design of the own design of printing
• used terminals and ID elements sensors are mostly universal - for attendance in various modes, monitoring of orders and for access control in various modes - adjustable only by the configuration of appropriate applications on the PC
Basic applications of INFOS system:
• PASSPORT - Attendance system
• WATT – Intranet application for attendance data
• ACCESS - Access system
• CARDPAY – Payments system for catering, sports facilities, vending machines, copy machines, parking spaces …
• VISIT – Visitors´ evidence system
• SVZ – Monitoring and evaluation of orders